Events – Projects
September 2023 Dine Out For Charity at Sedona Taphouse
Not only is September Suicide Prevention and Awareness month, but it is also our Dine Out for Charity month at Sedona Taphouse. Please dine with us every Monday in September for some great value menu items and to support our efforts in the community with assisting youth with mental health events. Enjoy 50% off a great meal at Sedona Taphouse while doing your part for charity.
For every HALF PRICE 8 oz. Black Angus Flat Iron Steak or 7 oz. Grilled Salmon entrée sold, Sedona Taphouse will donate $1 to our organization!
Fine Print: You must dine in on a Monday and purchase a beverage, and the promotion is limited to one entrée per person. You can't beat that!
Sedona Taphouse is located at 198 E. Big Beaver Rd, Troy, MI 48083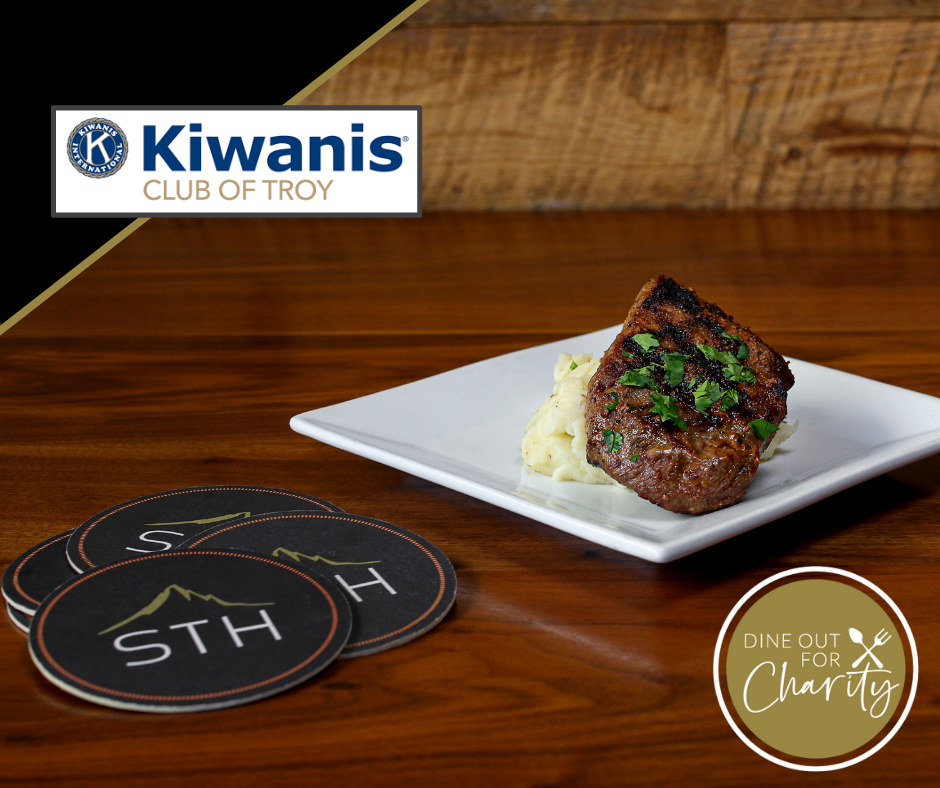 May 18 Winetasting Fundraiser at Troy Historic Village
Thursday, May 18, 2023 was a great night of music, auction items and local restaurants donating food to a great cause. Manny's Liquor provided various wines. Funds raised are going toward mental health events in the local schools and community! Thanks to everyone who attended and helped us raise over $3000 to help with 3 initiatives – Mental Health events in our schools, HAVEN of Oakland County children, and The Jenna Kast Believe In Miracles Foundation!
Thanks to our Sponsor – Bloomfield Child and Family Counseling at 3290 W/ Big Beaver Rd, Ste 230, Troy MI. Their passion for helping youth with mental health and suicide prevention is the same reason we want to help youth break down the stigma associated with mental illness and depression. https://www.bloomfieldfamilies.com/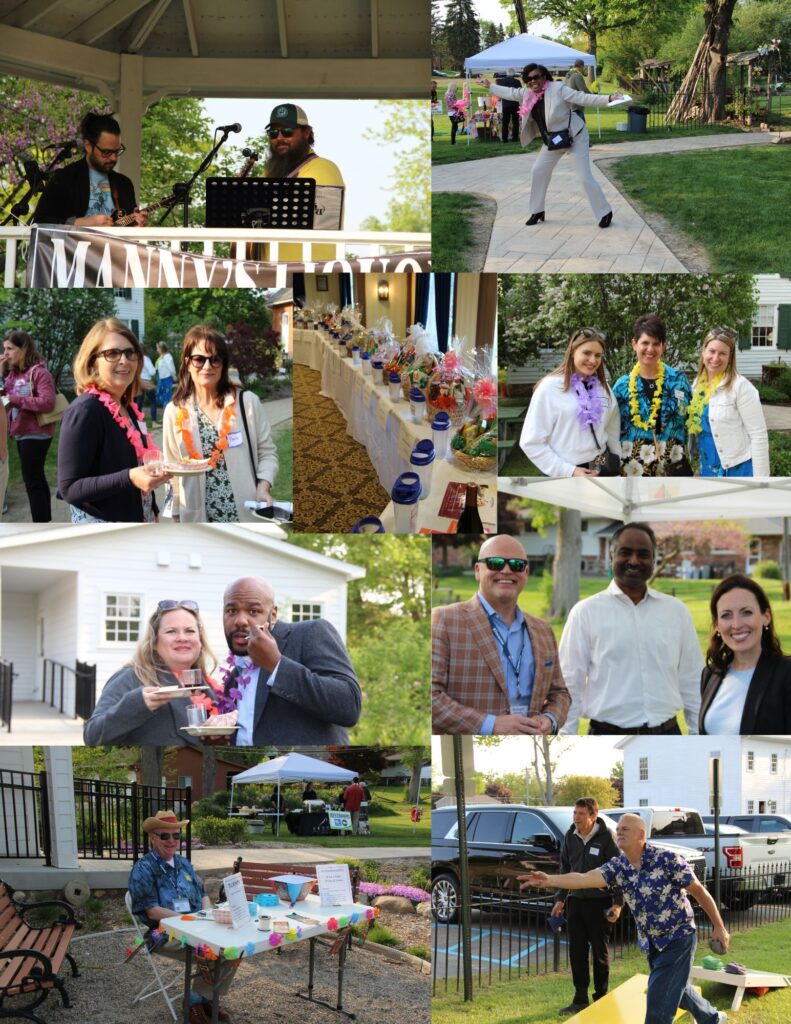 Santa & Mrs. Claus Event at Troy Historic Village – Dec. 4
The club sponsored eighteen families with children for a photo op with Santa and Mrs Claus. This was followed by craft making, Christmas ornament making, hot cocoa and different activities in the Village. These Troy community children face hardship in their lives and it was a great way to give back to our community with Christmas cheer.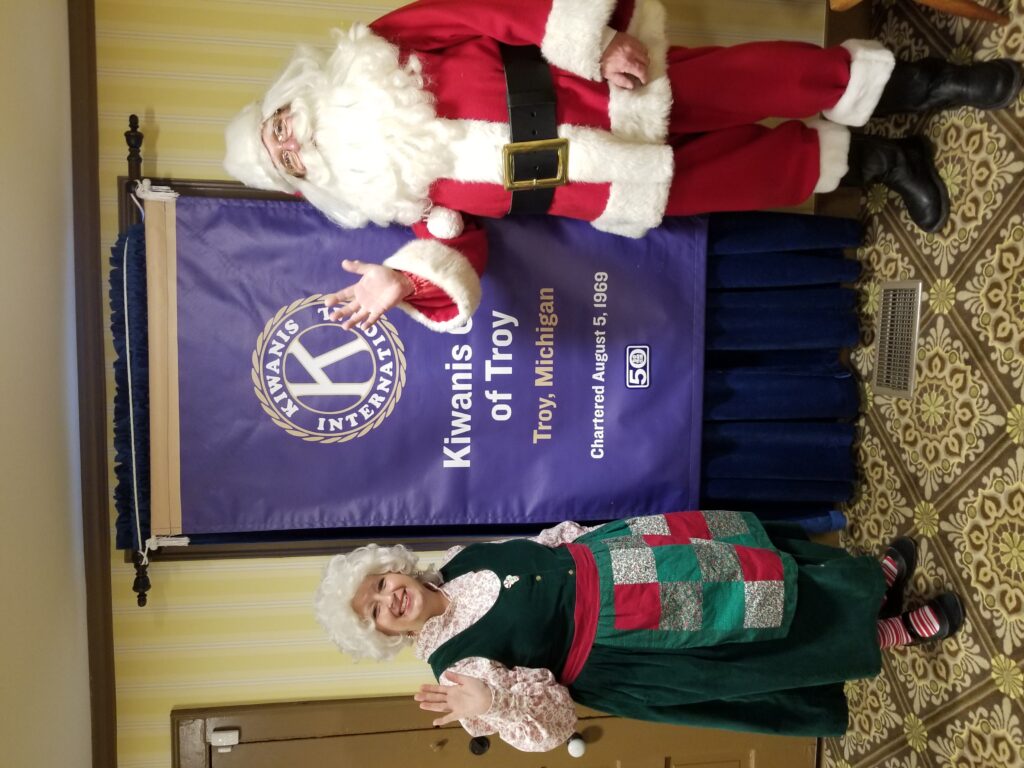 Donation Drive for HAVEN of Pontiac – Nov/Dec 2022
Our club in conjunction with IA East and Troy Athens KEY Clubs provided donations to HAVEN's children for their annual Gift Give Away event held in December. HAVEN provides shelter to victims of sexual assault and domestic abuse. A lot of these children leave all their belongings behind during these turbulent times of their lives.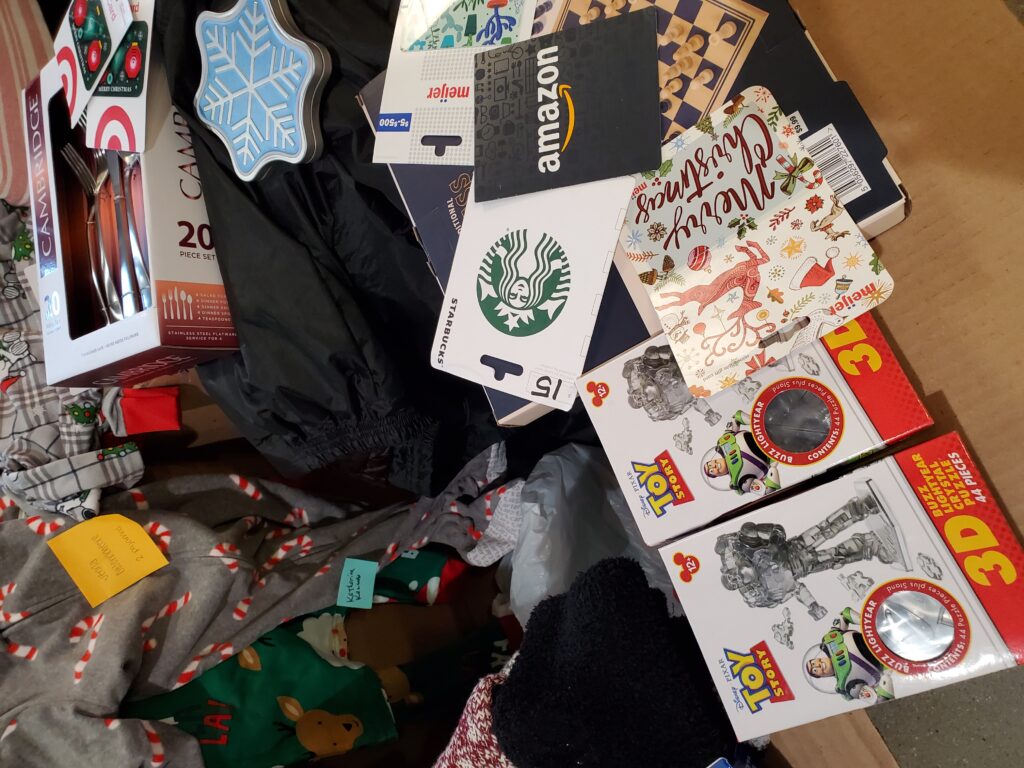 Youth Mental Health & Wellness Fair – Activities – Nov. 29
Dr. Stacey Francis explained how and what foods affect mental health. Troy Rec Center provided zumba and Explore Yoga provided yoga sessions. Various ways to combat stress and anxiety every day!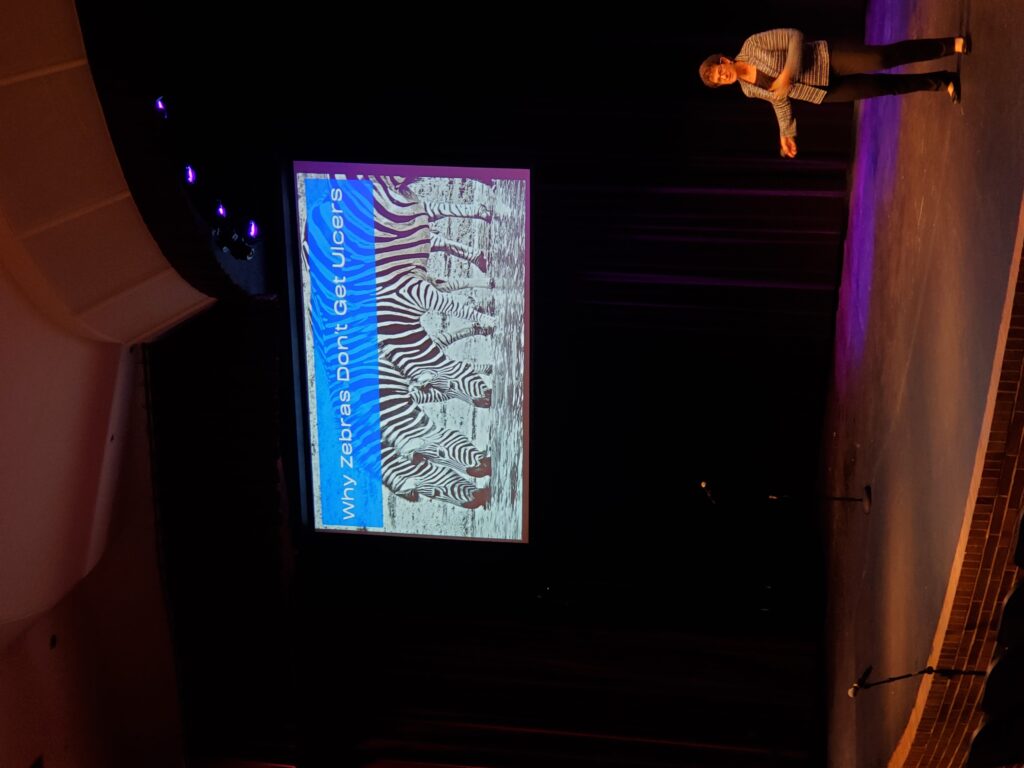 Youth Mental Health & Wellness Fair – November 29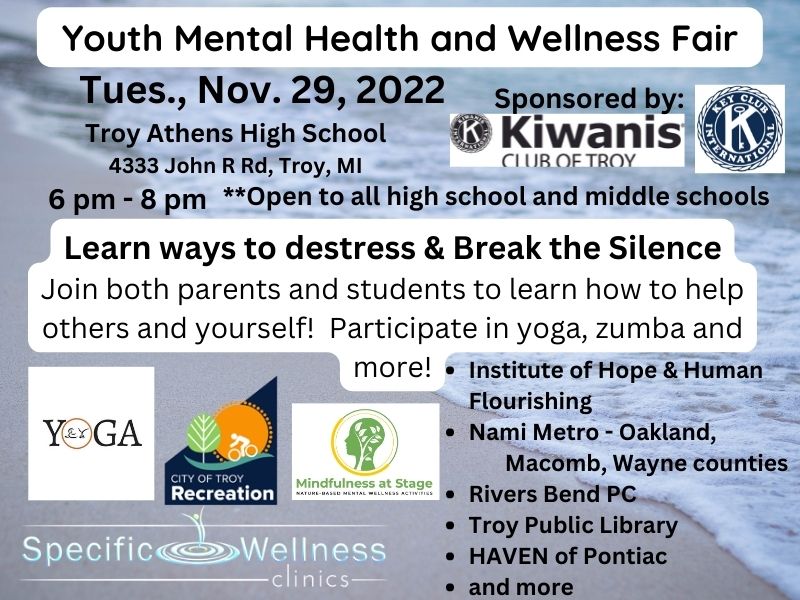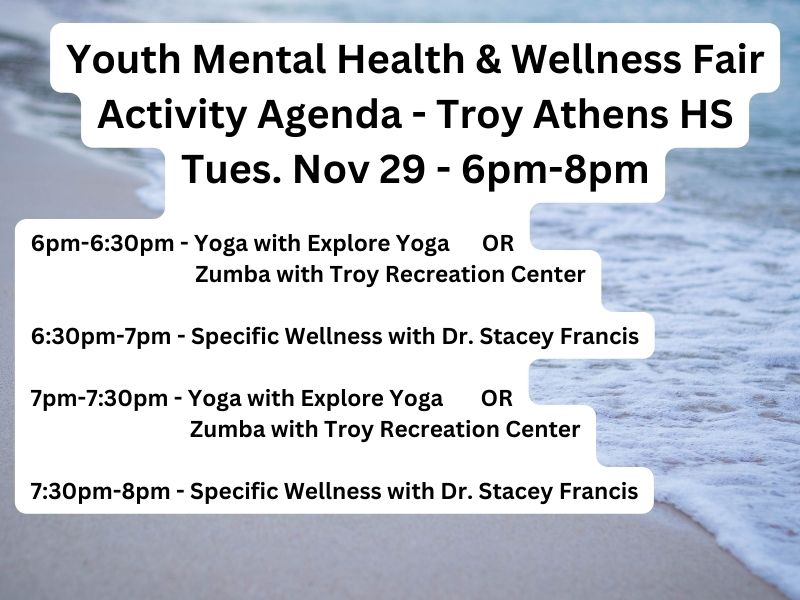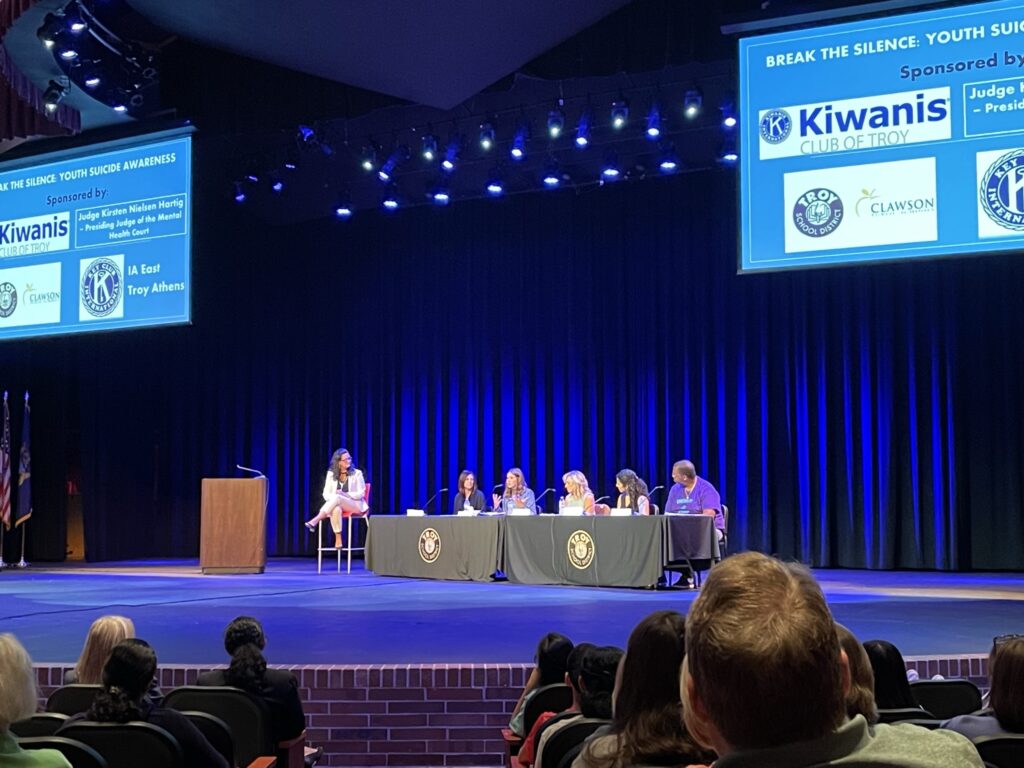 September 15 – BREAK the SILENCE: Youth Suicide Prevention Event
Held on September 15, the Kiwanis Club of Troy along with Judge Kirsten Nielsen Hartig presented in conjunction with Troy Schools and Clawson schools a community informational meeting on how to help students identify depression and suicidal thoughts. A 2 hour session with a variety of speakers which include: counselors, parents affected by suicide and students surviving suicide. This is an important topic that students and parents should attend to be aware of the signs and how to react to those signs. This FREE event is a critical topic for today's youth. This was the first of 4 events planned for the school year to assist youth experiencing mental health.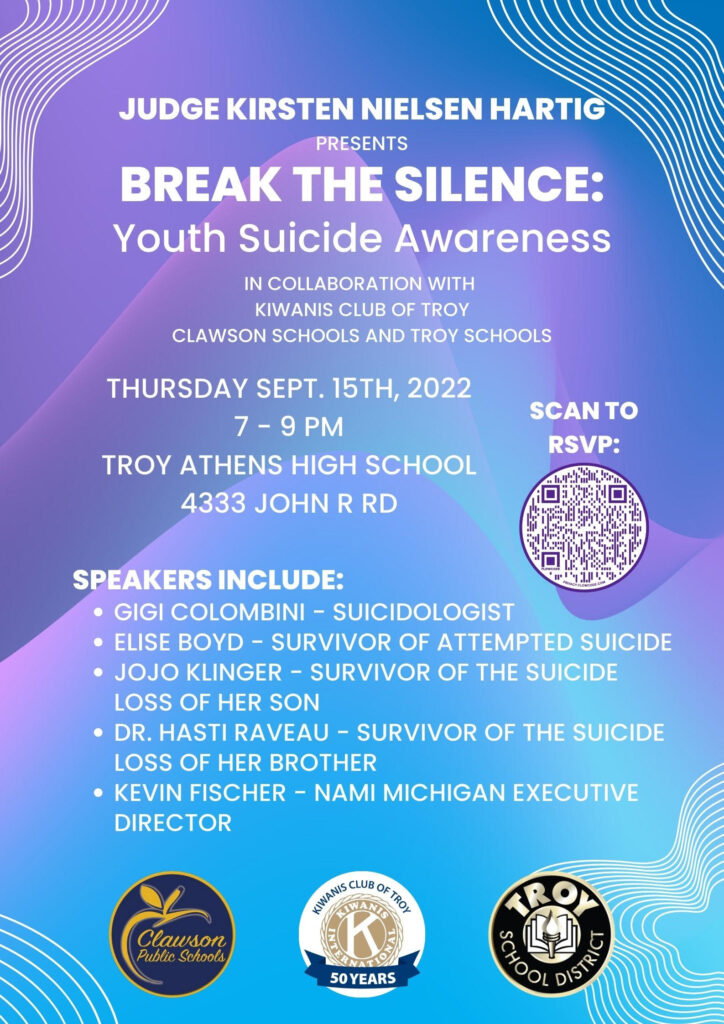 Fall 2022 Events
Sept. 27 – Club meeting at Noni's Grille – 3364 Rochester Rd at 12 noon. Guest Speaker: Emily Dumas – Troy Public Library Director
Oct. 1 – Adopt A Road Clean Up at MJR Theatres – Livernois/Maple Rd at 9 am along with Key Clubs
Oct. 11 – KEY Club virtual Career Night – Speakers from various professions share their insight.
Oct. 13 – Kiwanis Club of Troy "all day" fundraiser at McVees Pub & Grub at 1129 E. Long Lake Rd in Troy. 20% of proceeds help fund Mental Health initiatives and HAVEN and KEY Clubs. Dine In only so spread the word to friends and family to dine with us! Must present Kiwanis flyer when ordering for Troy Kiwanis to receive 20% from meal proceeds! Invite your family/friends/ co-workers to join you that day!
November – Kiwanis and KEY Club donation collection for HAVEN teens Christmas Gift Give Away program.
Nov. 11 – KEY Club fleece blanket making for children of HAVEN – sexual assault and domestic abuse victims. Troy Athens High School TACC room after school event.
Dec. 7 – HAVEN Gift Give Away program assistance on-site.
Dec. 10 – Santa event for underprivileged children in community. Pictures with Santa and gifts for children. Location – TBD
Meetings
Are you interested in learning more about our club? Why not attend a bi-monthly meeting or visit us at one of our upcoming community service projects? We'd love to meet you! We currently meet the 2nd and 4th Tuesday of each month at 12 pm – Noni's Grille at 3364 Rochester Rd – north of Big Beaver Rd in Troy, MI. Please send an email to [email protected] for inquiries.
Spring KEY Club Leadership Summit
Held annually in late spring, this summit provides KEY Club students with leadership lessons from professionals in various occupations. 2022 Leadership Summit was held at Emagine Theaters in Rochester. Speakers were Paul Glantz – Emagine Theaters and Lori Sisk – Wayne State University Supply Chain Professor.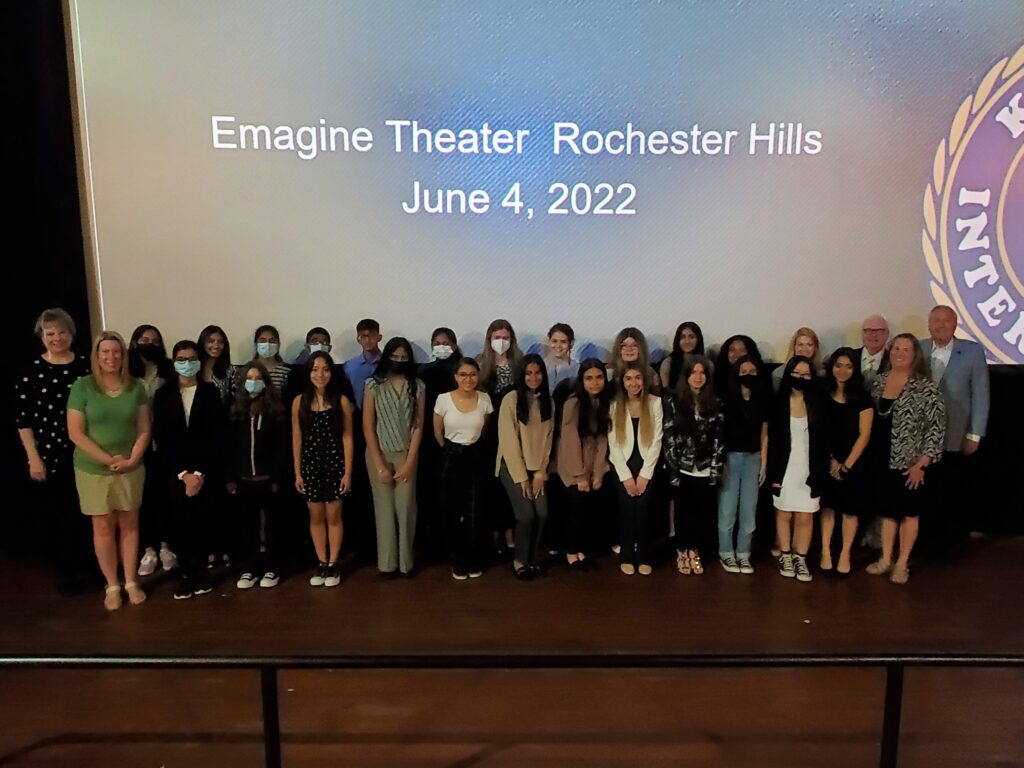 Spring/Fall Adopt A Road Clean Up
Spring & Fall Adopt-A-Road CleanUp meet in the MJR Theatre parking lot at Livernois and Maple Rd. CleanUp typically lasts for 1.5 hours 9 – 10:30 am.
Fall 2022 Adopt A Road cleanup is Saturday, Oct. 1 at 9 AM – 10 AM. Meet at MJR Theatres at Livernois and Maple Rd.
The Troy Kiwanis Club in collaboration with the local Key Clubs (Athens and IA East) clean up the Troy community roads in the Spring and Fall. This is a great way to keep Troy beautiful!!
Wine Tasting Dinner Fundraiser (Postponed until Spring 2023)
This year's event will be held at Maggiano's of Troy. More details will follow, but this is always a great time and great raffle prizes help fund local community organizations.
Fresh Thyme Grocery Deliveries to HAVEN of Pontiac
Each month Troy Kiwanis members provide donation/food deliveries to HAVEN in Pontiac that are donated by Troy Fresh Thyme on Big Beaver Rd. These deliveries help sexual assault and domestic abuse children and adults that reside at HAVEN or are supported by HAVEN organization.
Friends of Foster Kids – Teens Aging out of Foster Care System
Teens aging out of foster care have needs you can't imagine. We work with Friends of Foster Care to provide duffle bags of items they need as they go to college. Also, throughout the year we involve them in our KEY Club events for the general public. (i.e. Youth Suicide Event for students and parents).